Classifications





You are here...
Home > Daffodils > Shipping >
DAFFODIL SHIPPING
ORIEL (P&F) picks, packs and transports its product so that it arrives to you in optimum condition. This procedure is further explained below.
We don't keep our product in storage for weeks on end and try to play the market. What you receive will be of optimum freshness thus ensuring a maximum shelf life.
The process of picking the daffodil in the field to its arrival at your stores/warehouse takes approximately 3-4 days.
''It is our objective to move swiftly through each of the logistical stages''
Once ''cropped'' the daffodils are cleaned and put into refrigeration in order to extract the field heat and the excess sap. The daffodils must stay here for 12-18 hours.
They are then graded, labelled, boxed and put onto pallets. Almost immediately the packed boxes are put into '' a sophisticated cooling tunnel''.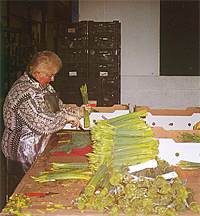 The same day palletised boxes are transported to the airline for the flight to the USA.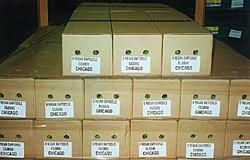 On arrival in America they are USDA inspected and cleared through customs from whence the daffodils are delivered to your stores/warehouse.
Bunch specification
As standard each bunch consists of 10 stems with average stem length of 12 inches
We can customise bunch size to suit your requirements ie. 15, 20, 25 or 30 stems per bunch
Customisation ie. Sleeve - added foliage is available at extra cost.
Trumpets and large-cupped daffodils are shipped pencil tight whilst "Multi-Headed" and "Doubles" (by their nature) have to be shipped ''cracking''.
Standard pack sizes are bunches x 10 stems of 30 or 80 bunches per box. Other box sizes are available on request.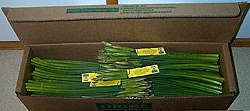 UPC coded care tags with special date coding is available. We can also provide you with a customised UPC for your convenience or for use in price point promotions
Consumer Care Instructions are included on each label to ensure best results for the end user.


Care instructions are printed on the inside lid of each box, outlining and ensuring the best POS ( Point of Sale) storage conditions.
For best results and care of O' Regan cut daffodils in warehouse through to point of sale (POs), use the following recommendation
Keep cool at all times 35 - 40 degrees Fahrenheit (2 - 4 degrees Celsius )
ON RECEIPT OF DAFFODILS INTO STORE:
Unpack bunches
Place upright in dry bucket / container for point of sale
WARNING : DO NOT EXPOSE TO DIRECT HEAT OR SUNLIGHT
Optional cost extras can include:

Pictures of the product on the box or label
Added foliage to each bunch making it a more attractive arrangement or bouquet.